Biologisk injektionsbehandling med trombocytrikt fibrin
Metodica Specialistläkare erbjuder ultraljudguidad injektionsbehandling med senaste generationen av regenerativa trombocytkoncentrat – C-PRF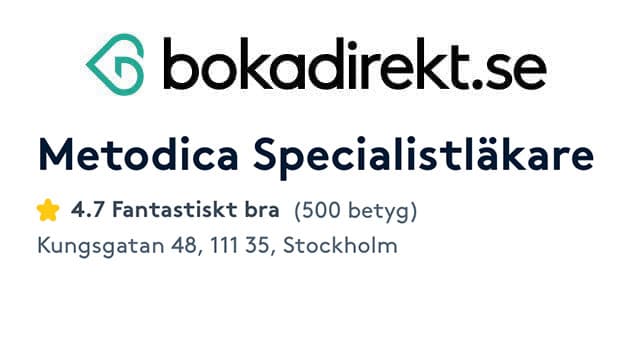 Mycket proffsigt och pedagogiskt bemötande. Jag kan bara tacka för genial hjälp.
Kan rekommenderas
Maxwell Johnson
2023-09-01
Bra läkaren som verkligen vad han pratar om. Fick svar på alla mina frågor.
Diagnos, ultraljud och behandling inom loppet av två veckor. Och smärtan släppte inom några få dagar! Så här långt kom inte regionens vårdcentraler/sjukhus på tre år... Har du problem med nacke/rygg så kan jag varmt rekommendera Niklas. Antagligen fixar han andra krämpor också.
Som alltid får man ett proffsigt bemötande. Niklas är mycket duktig på att lokalisera vad det är för fel och sätta in rätt behandling.
Den här vänligheten, tydligheten och noggrannheten är vi inte bortskämda med i den ordinarie vården. Smärtan ej så intensiv längre. Doktorn är en skicklig spruthanterare. AL Porat
Mycket bra läkare. Kunnig. Mycket bra bemötande. Tack så mycket Niklas
Det var bara positivt och jag blev mycket nöjd med behandlingen.
C-PRF – En modern uppföljare till PRP och ett likvärdigt alternativ till stamcellsbehandling.
Trombocyter (blodplättar) innehåller kroppens läkningsbefrämjande tillväxtfaktorer. Injektion med trombocytkoncentrat är en regenerativ behandlingsform som stimulerar läkning och minskar besvär i bl a ligament, senor, muskler, menisker och leder. Trombocytkoncentrat framställs genom att en liten del av patientens blod tappas och därefter centrifugeras för att separera och koncentrera trombocyter och tillväxtfaktorer. Modern forskning har visat att avgörande faktorer för ett framgångsrikt behandlingsresultat är en hög koncentration och god kvalitet av trombocyter i slutprodukten. Trombocytkoncentrationen bör vara minst 5 ggr högre än den normala koncentrationen i blodet. Pain School International rekomenderar 1,5-4 miljarder trombocyter per ml. Vid injektionsbehandling av artros i större leder är rekommendationen minst 10 miljarder trombocyter per injektion. Koncentrationer under 500 miljoner trombocyter per ml betraktas som verkningslösa. 
Första generationens trombocytkoncentrat går under namnet PRP (Platelet Rich Plasma) och framställs vanligtvis med hjälp av olika kommersiella paket med stor variation vad gäller utrustning och centrifugeringsprotokoll. Flera oberoende studier har visat att trombocytkoncentrationen i färdig produkt inte sällan ligger i det lägre intervallet av vad som idag betraktas som verkningsfullt. Vid framställning av PRP används kemiska antikoagulationsmedel och ofta långa centrifugeringstider med höga varvtal och fast vinkel; faktorer som var och en kan bidra till försämrad kvalitet hos slutprodukten. Efter injektion bryts PRP snabbt ned i skadeområdet och utsöndringen av tillväxtfaktorer upphör. Ett sätt att kompensera för bristande kvalitet och låga trombocytkoncentrationer är att ge 3-4 injektioner under ett relativt kort tidsintervall.
Behandling med mesenkymala stamceller har de senaste åren lanserats som en effektiv behandling mot artrossymptom. På marknaden finns idag flera olika produkter för beredning av och behandling med mesenkymala stamceller. Stamcellerna skördas vanligtvis från benmärg eller från fettvävnad. Mesenkymala stamceller och högkoncentrerade trombocyter har i flera jämförande studier uppvisat lika god effekt vid artrosbehandling, både på kort och lång sikt. Behandlig med mesenkymala stamceller är en mer omständlig, tidskrävande och betydligt dyrare procedur än behandling med trombocytkoncentrat.
Idag finns ett modernt alternativ till behandling med PRP och mesenkymala stamceller. C-PRF står för högkoncentrerat trombocytrikt fibrin och är senaste generationen av regenerativa trombocytkoncentrat. C-PRF innehåller upp till 5 gånger mer trombocyter än PRP. C-PRF innehåller tillväxtfaktorerna VEGF, EGF, PDGF, TGF-β, TNF-α, IGF-1, IL1-B, IL-4, IL-6 samt vita blodkroppar och en del stamceller som förstärker den läkande potentialen i skadad vävnad. Framställning av C-PRF följer moderna och standardiserade forskningsprotokoll och beredning och insamling av blod kräver inga dyra specialprodukter. Till skillnad från PRP framställs C-PRF helt utan kemiska tillsatser/antikoagulationsmedel och med en horisontell och kortvarig centrifugering vilket ger en slutprodukt av högre kvalitet. Koaguleringen hämmas tillfälligt genom snabb kylning av blod och trombocytkoncentrat. Då inga antikoagulationsmedel används kommer injicerat koncentrat att bilda ett fibrinnätverk som håller kvar trombocyterna i skadad vävnad och ökar utsöndringstiden av tillväxtfaktorer upp till 2 veckor.
C-PRF förändrar och förbättrar regenerativ behandling med mer effektiva och helt naturliga injektioner. Med C-PRF förkortas tiden från blodtagning till injektion av färdigt koncentrat. Tack vare den höga andelen kvalitativa trombocyter och den långa utsöndringstiden räcker det ofta med 1-2 behandlingar för att uppnå bra behandlingsresultat. C-PRF är ett likvärdigt, enklare och mindre kostsamt alternativ till stamcellsbehandling vid artros och kan med fördel kombineras med långverkande smärtlindring med kryodenervering och injektion av hyaluronsyra. All injektionsbehandling utförs med ultraljudsguidning för ökad precision.
Kontakta Metodica Specialistläkare om du är intresserad av behandling med C-PRF. För fördjupad information hänvisas till bifogad referenslista.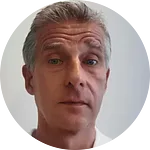 Dr Niklas Wångdahl
Niklas är specialistläkare i allmänmedicin, har nära 20 års erfarenhet av smärtutredning, smärtlindring och behandling av ryggsmärta/ischias. Välkommen att boka tid i dag för utredning och behandling i Stockholm.
Kontaktformulär
Har du frågor eller funderingar?
Basics of Platelet-Rich Fibrin Therapy. Richard J. Miron, DDS, MSc, PhD; Mark Bishara, DDS; and Joseph Choukroun, MD. Dentistry Today, Inc
Pavlovic V, Ciric M, Jovanovic V, Trandafilovic M, Stojanovic P. Platelet-rich fibrin: Basics of biological actions and protocol modifications. Open Med (Wars). 2021 Mar 22;16(1):446-454.
Grecu AF, Reclaru L, Ardelean LC, Nica O, Ciucă EM, Ciurea ME. Platelet-Rich Fibrin and Its Emerging Therapeutic Benefits for Musculoskeletal Injury Treatment. Medicina. 2019; 55(5):141.
Özsagir ZB, Agir M, Injectable platelet-rich fibrin: a new material in medicine and dentistry. Mucosa, Year 2020, Volume 3, Issue 2, 27 – 33, 30.06.2020
Richard J Miron et al. Injectable platelet rich fibrin (i-PRF): opportunities in regenerative dentistry Clin Oral Investig. 2017 Nov.
Gollapudi M et al. Injectable Platelet-Rich Fibrin – A Revolution in Periodontal Regeneration. Cureus 14(8): e28647, 2022
Richard J Miron et al. A novel method for harvesting concentrated platelet-rich fibrin (C-PRF) with a 10-fold increase in platelet and leukocyte yields. Clinical oral investigations 24 (8), 2819-2828, 2020.
Masako Fujioka-Kobayashi et al. Improved growth factor delivery and cellular activity using concentrated platelet-rich fibrin (C-PRF) when compared with traditional injectable (i-PRF) protocols. Clin Oral Investig. 2020 Dec.
Masako Fujioka-Kobayashi et al. Biological characterization of an injectable platelet-rich fibrin mixture consisting of autologous albumin gel and liquid platelet-rich fibrin (Alb-PRF). Platelets 32 (1), 74-81. (2021).
Gheno E, et al. In vivo evaluation of the biocompatibility and biodegradation of a new denatured plasma membrane combined with liquid PRF (Alb-PRF) June 2020 Platelets 32(4):1-13
Richard J Miron et al. A novel method for evaluating and quantifying cell types in platelet rich fibrin and an introduction to horizontal centrifugation. Journal of biomedical materials research Part A 107 (10), 2257-2271, 2019.
Di Martino A, Boffa A, Andriolo L, Romandini I, Altamura SA, Cenacchi A, Roverini V, Zaffagnini S, Filardo G. Leukocyte-Rich versus Leukocyte-Poor Platelet-Rich Plasma for the Treatment of Knee Osteoarthritis: A Double-Blind Randomized Trial. Am J Sports Med. 2022 Mar;50(3):609-617.
Degen RM, Bernard JA, Oliver KS, Dines JS. Commercial Separation Systems Designed for Preparation of Platelet-Rich Plasma Yield Differences in Cellular Composition. HSS J. 2017 Feb;13(1):75-80.
Kushida S, Kakudo N, Morimoto N, Hara T, Ogawa T, Mitsui T, Kusumoto K. Platelet and growth factor concentrations in activated platelet-rich plasma: a comparison of seven commercial separation systems. J Artif Organs. 2014 Jun;17(2):186-92.
Fitzpatrick J, Bulsara MK, McCrory PR, Richardson MD, Zheng MH. Analysis of Platelet-Rich Plasma Extraction: Variations in Platelet and Blood Components Between 4 Common Commercial Kits. Orthop J Sports Med. 2017 Jan 3;5(1):2325967116675272.
Abd El Raouf M, Wang X, Miusi S, Chai J, Mohamed AbdEl-Aal AB, Nefissa Helmy MM, Ghanaati S, Choukroun J, Choukroun E, Zhang Y, Miron RJ. Injectable-platelet rich fibrin using the low speed centrifugation concept improves cartilage regeneration when compared to platelet-rich plasma. Platelets. 2019;30(2):213-221.
Fujioka-Kobayashi, M. et al. Optimized Platelet-Rich Fibrin With the Low-Speed Concept: Growth Factor Release, Biocompatibility, and Cellular Response. J. Periodontol. 88, 112–121 (2017).
Kobayashi, E. et al. Comparative release of growth factors from PRP, PRF, and advanced-PRF. Clin. Oral Investig. 20, 2353–2360 (2016).
Sánchez, M. et al. Plasma rich in growth factors to treat an articular cartilage avulsion: A case report. Med. Sci. Sports Exerc. 35, 1648–1652 (2003).
Campbell, K. A. et al. Does Intra-articular Platelet-Rich Plasma Injection Provide Clinically Superior Outcomes Compared with Other Therapies in the Treatment of Knee Osteoarthritis? A Systematic Review of Overlapping Meta-analyses. Arthrosc. – J. Arthrosc. Relat. Surg. 31, 2213–2221 (2015).
Nguyen, C., Lefèvre-Colau, M. M., Poiraudeau, S. & Rannou, F. Evidence and recommendations for use of intra-articular injections for knee osteoarthritis. Annals of Physical and Rehabilitation Medicine 59, 184–189 (2016).
Meheux, C. J., McCulloch, P. C., Lintner, D. M., Varner, K. E. & Harris, J. D. Efficacy of Intra-articular Platelet-Rich Plasma Injections in Knee Osteoarthritis: A Systematic Review. Arthrosc. – J. Arthrosc. Relat. Surg. 32, 495–505 (2016).
Kazemi, D., Fakhrjou, A., Mirzazadeh Dizaji, V. & Khanzadeh Alishahi, M. Effect of Autologous Platelet Rich Fibrin on the Healing of Experimental Articular Cartilage Defects of the Knee in an Animal Model. Biomed Res. Int. 2014, 1–10 (2014).
Dohan Ehrenfest, D. M., de Peppo, G. M., Doglioli, P. & Sammartino, G. Slow release of growth factors and thrombospondin-1 in Choukroun's platelet-rich fibrin (PRF): a gold standard to achieve for all surgical platelet concentrates technologies. Growth Factors 27, 63–9 (2009).
Choukroun, J. & Ghanaati, S. Reduction of relative centrifugation force within injectable platelet-rich-fibrin (PRF) concentrates advances patients' own inflammatory cells, platelets and growth factors: the first introduction to the low speed centrifugation concept. Eur. J.Trauma Emerg. Surg. 1–9 (2017).
El Bagdadi, K. et al. Reduction of relative centrifugal forces increases growth factor release within solid platelet-rich-fibrin (PRF)-based matrices: a proof of concept of LSCC (low speed centrifugation concept). Eur. J. Trauma Emerg. Surg. 1–13 (2019).
Wong, C.-C. et al. Platelet-Rich Fibrin Facilitates Rabbit Meniscal Repair by Promoting Meniscocytes Proliferation, Migration, and Extracellular Matrix Synthesis. Int. J. Mol. Sci. 18, 1722 (2017).
Sánchez, M. et al. Comparison of surgically repaired Achilles tendon tears using platelet-rich fibrin matrices. Am. J. Sports Med. 35, 245–251 (2007).
Mohi Eldin M, Sorour OO, Hassan ASA, Baraka M, Ahmed MF. Percutaneous injection of autologous platelet-rich fibrin versus platelet-rich plasma in sacroiliac joint dysfunction: An applied comparative study. J Back Musculoskeletal Rehabil. 2019;32 (3): 511-518.
Miron, R. J. et al. Platelet-Rich Fibrin and Soft Tissue Wound Healing: A Systematic Review. Tissue Eng. Part B. Rev. 23, 83–99 (2017).
Ng, F. et al. PDGF, TGF-beta, and FGF signaling is important for differentiation and growth of mesenchymal stem cells (MSCs): transcriptional profiling can identify markers and signaling pathways important in differentiation of MSCs into adipogenic, chondrogenic, and o. Blood 112, 295–307 (2008).
Sclafani, A. P. & McCormick, S. A. Induction of dermal collagenesis, angiogenesis, and adipogenesis in human skin by injection of platelet-rich fibrin matrix. Arch. Facial Plast. Surg. 14, 132–6 (2012).
Oneto P, Zubiry PR, Schattner M, Etulain J. Anticoagulants Interfere With the Angiogenic and Regenerative Responses Mediated by Platelets. Front Bioeng Biotechnol. 2020 Mar 20;8:223.
do Amaral RJ, da Silva NP, Haddad NF, Lopes LS, Ferreira FD, Filho RB, Cappelletti PA, de Mello W, Cordeiro-Spinetti E, Balduino A. Platelet-Rich Plasma Obtained with Different Anticoagulants and Their Effect on Platelet Numbers and Mesenchymal Stromal Cells Behavior In Vitro. Stem Cells Int. 2016;2016:7414036.
Aizawa H, Kawabata H, Sato A, Masuki H, Watanabe T, Tsujino T, Isobe K, Nakamura M, Nakata K, Kawase T. A Comparative Study of The Effects of Anticoagulants on Pure Platelet-Rich Plasma Quality and Potency. Biomedicines. 2020 Feb 25;8(3):42.
Gagandeep G, Rupinder J S, Birsukhman K T. Injectable platelet-rich fibrin (albumin gel and Iiquid platelet-rich fibrin). lnternational Journal of Health Sciences, 5(S2), 269-273.
Miron RJ et al. Extending the working properties of liquid platelet-rich fibrin using chemically modified PET tubes and the Bio-Cool device.  Clin Oral investig. 2022 Mar;26(3):2873-2878.
Narayanaswamy R, Patro BP, Jeyaraman N, Gangadaran P, Rajendran RL, Nallakumarasamy A, Jeyaraman M, Ramani P, Ahn BC. Evolution and Clinical Advances of Platelet-Rich Fibrin in Musculoskeletal Regeneration. Bioengineering (Basel). 2023 Jan 3;10(1):58.
Fujioka-Kobayashi M, Kono M, Katagiri H, Schaller B, Zhang Y, Sculean A, Miron RJ. Histological comparison of Platelet rich fibrin clots prepared by fixed-angle versus horizontal centrifugation. Platelets. 2021 Apr 3;32(3):413-419.
Bansal H, Leon J, Pont JL, Wilson DA, Bansal A, Agarwal D, Preoteasa I. Platelet-rich plasma (PRP) in osteoarthritis (OA) knee: Correct dose critical for long term clinical efficacy. Sci Rep. 2021 Feb 17;11(1):3971. doi: 10.1038/s41598-021-83025-2. Erratum in: Sci Rep. 2021 Sep 14;11(1):18612.
Nouri F, Babaee M, Peydayesh P, Esmaily H, Raeissadat SA. Comparison between the effects of ultrasound guided intra-articular injections of platelet-rich plasma (PRP), high molecular weight hyaluronic acid, and their combination in hip osteoarthritis: a randomized clinical trial. BMC Musculoskelet Disord. 2022 Sep 12;23(1):856.
Drew A. Lansdown, Lisa A. Fortier, Platelet-Rich Plasma: Formulations, Preparations, Constituents, and Their Effects, Operative Techniques in Sports Medicine, Volume 25, Issue 1, 2017, Pages 7-12.
Anz AW, Plummer HA, Cohen A, Everts PA, Andrews JR, Hackel JG. Bone Marrow Aspirate Concentrate Is Equivalent to Platelet-Rich Plasma for the Treatment of Knee Osteoarthritis at 2 Years: A Prospective Randomized Trial. The American Journal of Sports Medicine. 2022;50(3):618-629.
Baria M, Pedroza A, Kaeding C, Durgam S, Duerr R, Flanigan D, Borchers J, Magnussen R. Platelet-Rich Plasma Versus Microfragmented Adipose Tissue for Knee Osteoarthritis: A Randomized Controlled Trial. Orthop J Sports Med. 2022 Sep 16;10(9):23259671221120678.
Zaffagnini S, Andriolo L, Boffa A, Poggi A, Cenacchi A, Busacca M, Kon E, Filardo G, Di Martino A. Microfragmented Adipose Tissue Versus Platelet-Rich Plasma for the Treatment of Knee Osteoarthritis: A Prospective Randomized Controlled Trial at 2-Year Follow-up. Am J Sports Med. 2022 Sep;50(11):2881-2892.
Gobbi A, Dallo I, D'Ambrosi R. Autologous microfragmented adipose tissue and leukocyte-poor platelet-rich plasma combined with hyaluronic acid show comparable clinical outcomes for symptomatic early knee osteoarthritis over a two-year follow-up period: a prospective randomized clinical trial. Eur J Orthop Surg Traumatol. 2022 Aug 23.
Vezzani B, Shaw I, Lesme H, Yong L, Khan N, Tremolada C, Péault B. Higher Pericyte Content and Secretory Activity of Microfragmented Human Adipose Tissue Compared to Enzymatically Derived Stromal Vascular Fraction. Stem Cells Transl Med. 2018 Dec;7(12):876-886.
Tan SHS, Kwan YT, Neo WJ, et al. Intra-articular Injections of Mesenchymal Stem Cells Without Adjuvant Therapies for Knee Osteoarthritis: A Systematic Review and Meta-analysis. The American Journal of Sports Medicine. 2021;49(11):3113-3124.